A few words about us
Bakr Group, LLC. is a full service-consulting firm offering a wide array of project management services since 1999. We bring owners, architects, engineers, contractors, and all project related consultants together in a partnership to complete timely successful projects within budget. Our main objective is to provide exceptional, professional, personalized services to our clients by evaluating their goals, needs, and concerns; then implement comprehensive tools, skills, and experiences to meet their goals. We are committed to providing quality, high functional and cost-effective services. We have earned our solid reputations by being true owners' representatives whereby their interest becomes ours. The vast majorities of our projects are for repeat clients and are generated by referrals.
Since its establishment, Bakr Group has been in the leading position of major construction/development projects providing owners' representative and life-cycle project management in large-scale construction. Our experience has been in commercial, transportation, utilities, and major residential projects from the early development phases through construction completion. Bakr Group is a certified general contractor (CGC) in the State of Florida.
Our history
1984
1987
1989
1991
1999
Present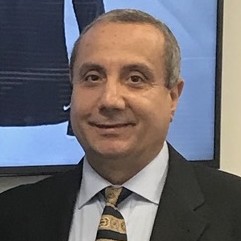 Hytham Bakr
Principal
Click on "FVEC" to Read more:

Overview
Mr. Bakr has over 35 years of project and construction management experience. His experience includes the management of industrial, commercial, Government Civil and Military projects. Throughout his professional career, he has successfully applied project management techniques in organizing and controlling the full range of project tasks from programming, design, and procurement through to construction, commissioning, and closeout. His project management responsibilities have included preliminary planning network development, master project / subproject schedule development, detailed construction cost and schedule development, cost and resource loading, schedule updates and reviews for payment applications, construction change order and time claim negotiations.
Experience Summary
1984 - 1987:
Intern Architect, ARTEC Architects, Caldwell, New Jersey, developed working drawings for various commercial and high rise residential projects. Clients meetings, determine and develop design requirements, generate projects' design, and manage projects' documents development.
1987 - 1989:
Assistant Project manager, Sinacola Construction, Wayne, New Jersey, Site and Utility contractor, assisted in utility, pump station, and water treatment plants projects, quantity take-off, cost estimating, order material.
1989 - 1991:
Project Engineer, Briscoe Construction Management / General Contractor, Roseland, New Jersey, working in all aspects of construction management, in several construction field offices providing on-site construction services including trade coordination, scheduling, cost estimating, safety and quality control.
1991 - 1999:
Project Manager, U.S. Army Corps of Engineers; served in numerous management positions with both the Baltimore and the Savannah Districts. Experience includes project management on a wide range of Government contracts and projects, both Military and Civil Works. Served as a team member on numerous A/E Selection Boards and, served as the Engineering Continuing Authority's Program Coordinator for the Baltimore District. With the Savannah District, served as a Construction Claims Manager and expert on Construction Scheduling and Engineering matters. In this capacity, developed the District's policy on construction scheduling, and served as the Government's Expert Witness on several delay impact claims. Developed and taught Network Analysis System (NAS) classes for the District's Employees.
1999 - Present:
Established Bakr Group, a full service-consulting firm providing owner's representative; engineering and construction management, QA/QC, CPM scheduling & analysis, construction delay & dispute claims, and expert witness testimony. Mr. Bakr holds a certified general contractor's license in the State of
Florida, a certified construction project management and a certified construction inspector certificates from the Construction Inspectors Association of America. He is a member of the Project Management Institute and serves
as "the "Director of Global Services" at its Scheduling Community of Practice.
Education
B.S./Architecture – New York Institute of Technology
M.S/ Civil Engineering / Construction Management – New Jersey Institute of Technology
Meet our team
Licenses / Certifications
Certified General Contractor (CGC) in the State of Florida
Memberships / Affiliation
Project Management Institute (PMI), Construction Specifications Institute (CSI), National Society of Professional Engineers (NSPE),
Society of American Military Engineers (SAME), Gulf Coast Builders Exchange (GCBX)